Nothing makes a dining experience more memorable than a great tableside view. We admit that this factor often is a key element for us when deciding on a restaurant. While it's easy to find fantastic food in Macau, an amazing view always adds value to the overall dining experience. Here are our top restaurants in Macau with a spectacular view.
ROBUCHON AU DÔME
(See featured image above)
Have you ever wondered what the view is like at the iconic landmark of Grand Lisboa in Macau? As a key landmark in the city, it's definitely as splendid as it looks from the outside. The three-Michelin-starred restaurant in the top dome (aptly called Robuchon Au Dôme) offers magnificent views of Macau. And, that's just the start of an unforgettable culinary journey at this award-winning dining spot. Prepare to be captivated by the crystal light chandelier cascading from the middle of the ceiling creating a dramatic effect for diners while enjoying the bespoke food by talented chefs. Every dish is prepared with precision and quality. This one should definitely be on top of your dining bucket list in Macau.
Robuchon Au Dôme Grand Lisboa Avenida de Lisboa, Macau, +853 2828 3838, www.grandlisboahotel.com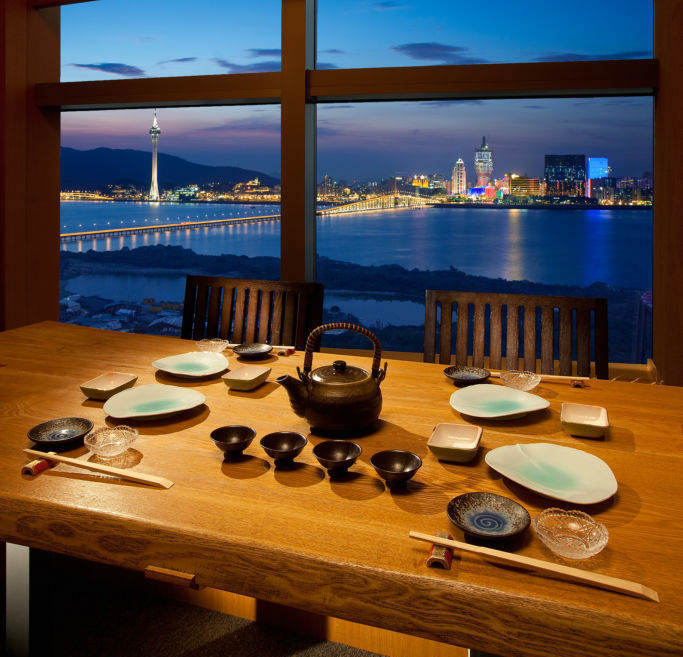 TENMASA
One of Macau Lifestyle's best-kept secret is Japanese restaurant Tenmasa in Altira Macau. We adore the minimalist interior and the finest sushi, sashimi, and Japanese favorites that are made with impeccable ingredients. Did you know that the ingredients are flown in directly from Japan at least five times a week? How's that for fresh and authentic! Don't forget what this article is about – this place also has beautiful views of the Macau Peninsula from the dining tables which you can enjoy while savoring divine dishes from the highly-skilled chefs. Tenmasa features tatami seating, private dining rooms, and an exclusive sushi and sake bar.
Tenmasa Altira Macau, Av. de Kwong Tung, Macau, +853 2886 8868, www.altiramacau.com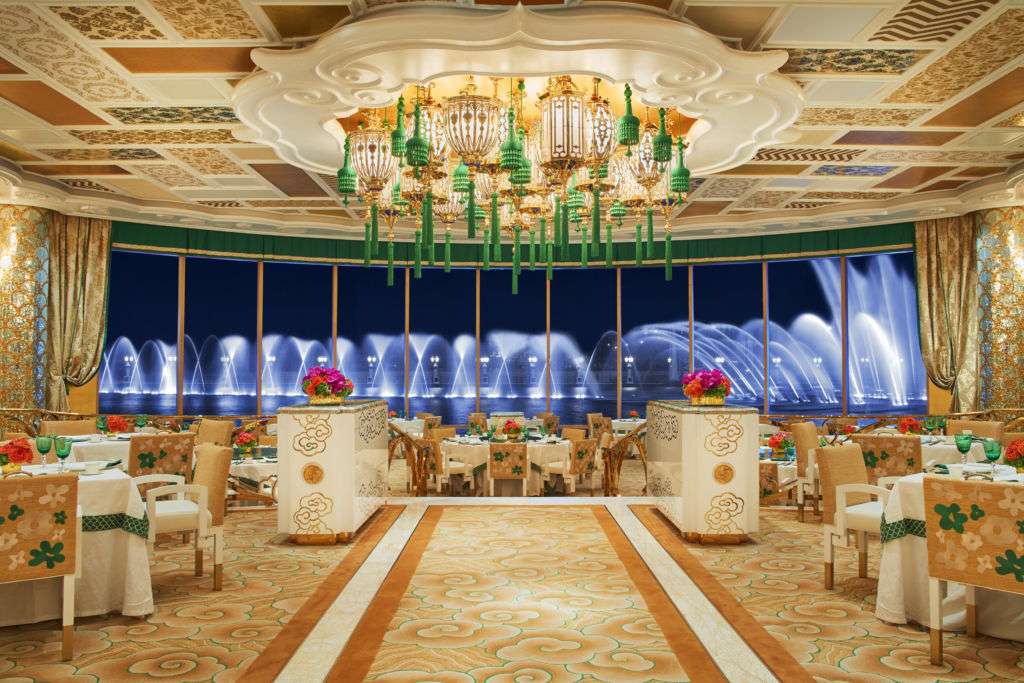 Wing Lei Palace
Once you step into the palatial interior of Wing Lei Palace you are transported to a place worthy of royalty. Located in the luxurious Wynn Palace, you'll feel the romantic air while dining in this opulent setting with heart-stopping views of Wynn Palace's magnificent Performance Lake. Savor Cantonese fine-dining fare highlighting cultural traditions and authentic culinary spirit of great China. There are choices aplenty but don't miss the seasonal menus with celebrated favorites like the wok-fried sliced duck, braised whole fresh abalone in oyster sauce, and barbecued suckling pig. A must-experience at this dining spot is their impressive selection of 50 specialty teas curated by Wynn Palace's Master Tea Sommelier.
Wing Lei Palace Wynn Palace, Avenida Da Nave Desportiva, Cotai, +853 8889 3663, www.wynnpalace.com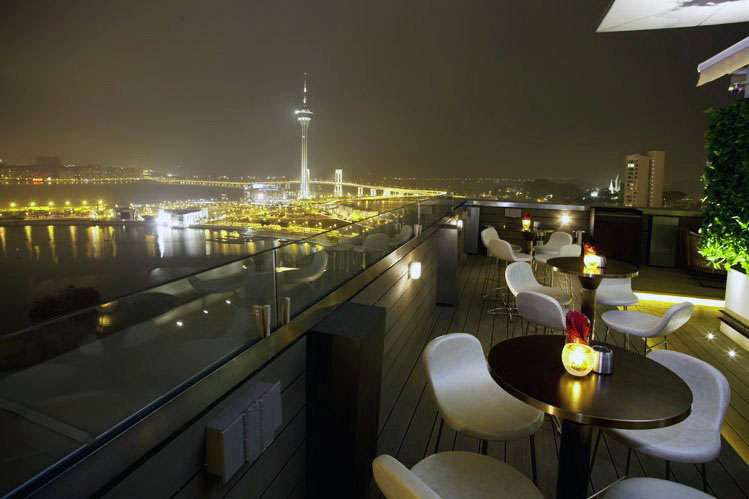 Sky 21
Sitting at the top of the AIA Tower in the middle of the bustling city, Sky 21 Bar and Restaurant is a melting pot of great music, creative cocktails, fabulous food and panoramic views of Macau. It has undoubtedly one of the best views of the city. Whether you opt for their business lunches, bespoke dining or post-work drinks, this is the place to be. The two-floor venue offers all-day dining on the first level, featuring regional Asian specialties, and a more casual menu on the rooftop. The vibe is relaxed and fun complemented by live music on selected nights.
Sky 21 Bar & Restaurant 21/F AIA Tower, 251A-301 Avenida Comercial de Macau, Praia Grande, Macau  +853 2822 2122, www.sky21macau.com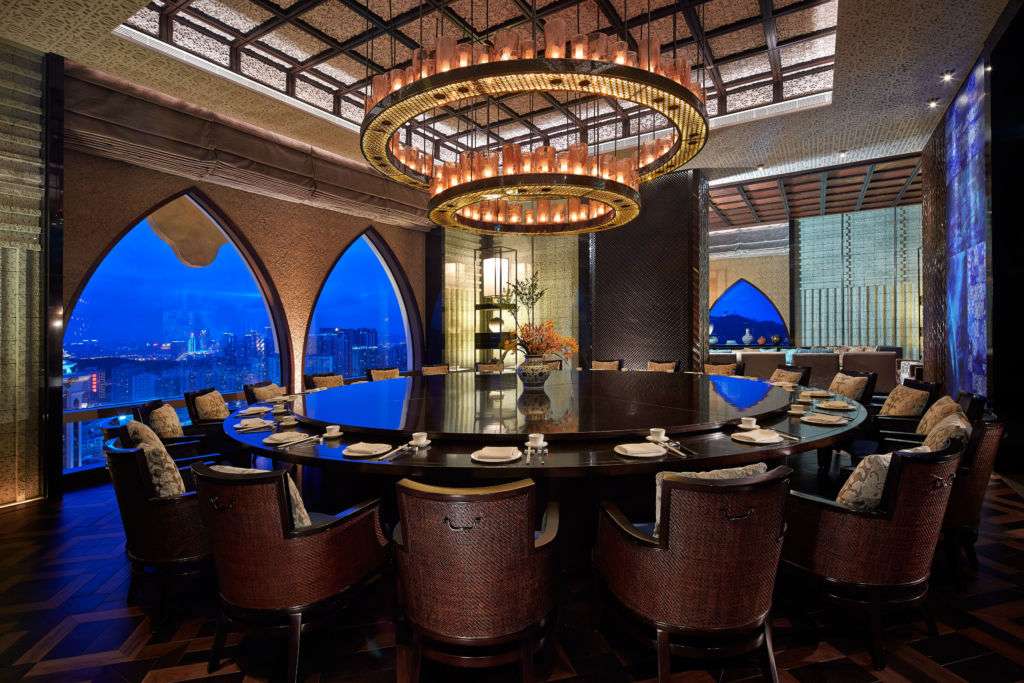 Lai Heen
If you're trying to unwind after a long day, take things up a notch at the stunning Lai Heen. Tucked away on the 51st floor of The Ritz-Carlton, Macau, Lai Heen is the highest Chinese restaurant in Macau, with spectacular views of Cotai and the city. The restaurant truly exemplifies the finest level of craftsmanship and the highest service levels in luxury Cantonese dining. Lai Heen is a recommended restaurant by the Michelin Guide Hong Kong and Macau.
Lai Heen 51F, The Ritz-Carlton, Galaxy Macau, Estrada da Baía de Nossa Senhora da Esperança, Cotai, +853 8886 6868, www.ritzcarlton.com

La Chine
La Chine is one of Macau's dining hotspots that offers both a feast for both eyes and the taste buds. Located on the 6th floor of The Parisian Macao's Eiffel Tower, the restaurants spoils diners with a majestic view of Cotai Strip. The elegant interiors will take your idea of fine dining to a whole new level. Experience signature French-influenced Chinese dishes in the chic ambiance and grandeur of La Chine.
The Parisian Macao Estrada do Istmo, Lote 3, Macau, +853 8111 2300, www.parisianmacao.com
Grill 58
One of the newest additions to the thriving restaurant scene in Macau is Grill 58, a must-try in the heart of the city. Situated at the MGM Cotai and enclosed within an atrium called The Spectacle. What exactly is the Spectacle? It's the world's largest area made up of permanent indoor LED screens, which showcases an exclusive array of digital art collected from around the globe. The view is overwhelmingly beautiful for an indoor restaurant – Grill 58 sets the right mood for a family meal or laid-back dining with friends and colleagues. Grill 58 takes pride in the quality selection of meat and seafood and offers various preparation choices from simple grill over wood or professional teppanyaki.
Grill 58 MGM Cotai, Macau Ave. Da Nave Desportiva, Cotai, Macau +853 8806 2318, www.mgm.mo
Tags
Related Posts